Ortho-k for teenagers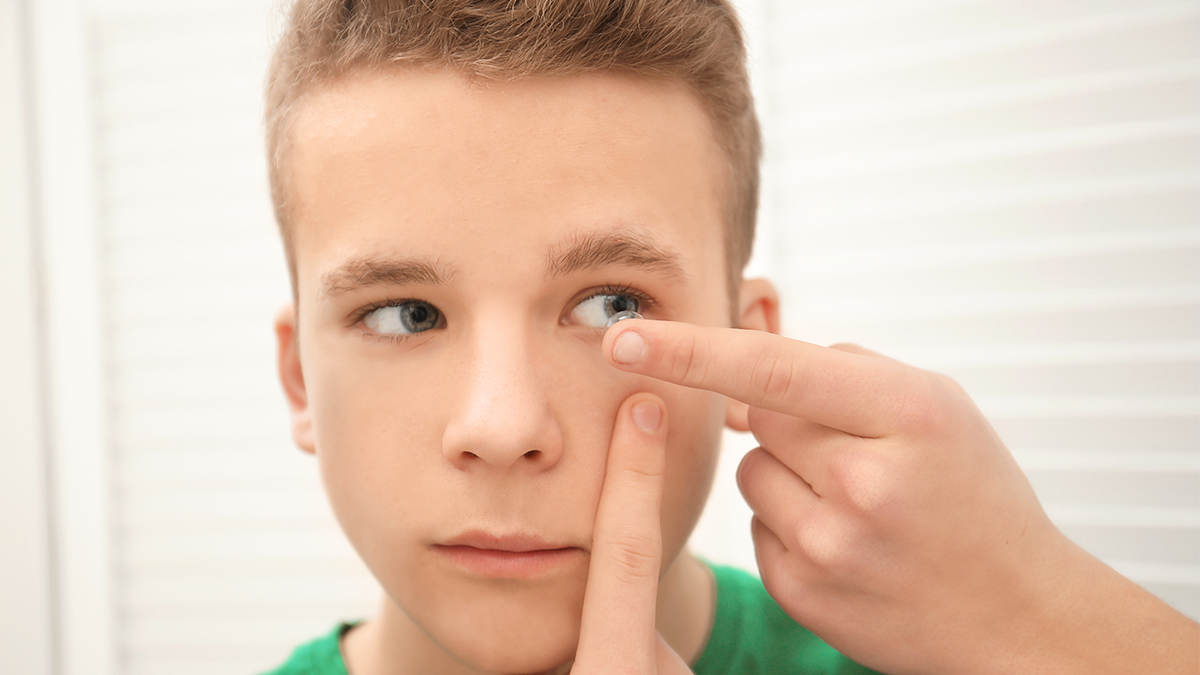 Key points
Ortho-k, short for orthokeratology, is a special type of rigid contact lens worn overnight while sleeping.
When fit correctly, ortho-k corrects vision during the day without needing glasses or contact lenses.
For teenagers, ortho-k is a great option for active lifestyles, those doing water sports, boosting confidence compared to wearing glasses, and to slow progression of myopia.
Ortho-k is an established modality for correcting vision in teenagers and can be worn safely by teenagers.
---
In this article
Ortho-k is a safe vision correction and myopia control option for teenagers that offers many benefits compared to glasses and daily wear soft contact lenses.
What is ortho-k?
Ortho-k is a special type of rigid contact lens which is worn overnight, while sleeping, to gently reshape the cornea (the clear dome at the front of the eye). The cornea acts like a lens for the eye, with the corneal shape changes made by ortho-k in effect increasing or decreasing its focusing power.
On waking the ortho-k lenses are removed where the change in focusing power they make to the cornea provides the same effect as wearing glasses or daytime contact lenses. When fit correctly, ortho-k overcomes the need for daytime glasses or contact lenses.
Lens wear needs to be continued each night to maintain the shape change that is made to the cornea, and for clear vision during the day. For a more detail deep dive into ortho-k read our article What is ortho-k?.
Alongside correcting vision, there is growing evidence that ortho-k is effective in slowing progression of myopia in teenagers.1 To learn about ortho-k for myopia control in children read our article Ortho-k for myopia control in teenagers.
Benefits of ortho-k for teenagers
Ortho-k allows teenagers who need vision correction to see clearly during waking hours without the need for glasses or contact lenses.
Teenagers can be just as susceptible to dry eye symptoms as adults2 and there is link between increased screen time and dry eyes.3 Dry eyes can make daytime wear of contact lenses uncomfortable, for which ortho-k can be a solution.4 The overnight wear only modality of ortho-k can help overcome these problems as a result of contact lens wear only being worn overnight.
For teenagers, ortho-k provides lifestyle benefits as the wearer doesn't need spectacles or contact lenses to see clearly for school, sport and other recreation activities.1 It offers particular benefit for water sports and water based activities, since exposing contact lenses to water is one of the biggest risk factors for serious eye infection associated with ortho-k lens wear.5
Younger teenagers have been shown to prefer wearing ortho-k to spectacles, rating their overall vision, appearance, ability to participate in activities and satisfaction as higher with ortho-k.6
Are ortho-k lenses suitable and safe for teenagers?
As long as they are happy with overnight contact lens wear, and able to handle ortho-k lens application, removal and care, then ortho-k is a suitable option to provide vision correction for teenagers.
When it comes to safety, the research reveals ortho-k to have a high safety profile in teenagers, with risk of microbial keratitis infection reported at around 1-2 cases per 2,000 patient wearing years.7,8 This is a similar safety profile to daily wear soft silicone hydrogel contact lenses.7
Although rare, the most concerning type of infection in contact lens wear is acanthamoeba keratitis, which is caused by interaction between contact lenses and the acanthamoeba organism that lives in water.5 Ortho-k lenses are considered one of the safest forms of contact lens wear for teenagers because they are not worn during the day, making them an ideal way to correct vision without glasses if they enjoy swimming or water sports.1
Contact with water increases risk of eye infection for any type of contact lens wear, including ortho-k. Optometrists and eye doctors recommend that water never comes into contact with any type of contact lens - either during wear or when cleaning the lenses, cases or accessories.
How to get my teenager fit with ortho-k
The ortho-k lens fit process is the same for teenagers as it is for adults. Refraction (eye prescription) and the shape profile of the cornea (the clear dome at the front of the eye) is measured, which are then used to assess suitability for ortho-k.
Before starting wear, they will be taught how to apply and remove the lenses, alongside all of the care steps that are required to look after the lenses. Once comfortable with handling ortho-k lenses overnight lens wear will be started - typically for just one night when new to ortho-k, and the corneal topography measurement repeated the next morning.1
At follow-up visits refraction and corneal topography will be re-measured to compare against previous measurements to assess how much corneal flattening has occurred. If all is well overnight wear is continued, with subsequent adjustments being made to the ortho-k lens design if the eye shape changes fall short of what was expected.
What do ortho-k lenses cost?
The initial assessment to determine whether ortho-k is suitable for your teenager may not require lenses to be ordered. Once started down the actual lens fit process you will start to incur costs for the eye doctor's time and for the lenses themselves.
The need for more visits at the start of the lens fit process typically makes for a higher upfront cost compared to standard daily wear soft contact lenses, however once a successful lens fit is achieved ongoing visits are typically the same as for daily wear soft contact lenses, which in teenagers are recommended every 6 months.9
In general you should expect a successful outcome if you have been told that your teenager is suitable for ortho-k. However, even with the best intentions, there will still be cases where ortho-k just doesn't work for no pre-determinable reason.
Because of this possibility, before commencing the lens fit process it is wise to ask whether any of the costs will be reimbursed in the event that ortho-k is found to be unsuccessful for your teenager.
---
References
Back to the knowledge centre