When should we start myopia control and when should we stop?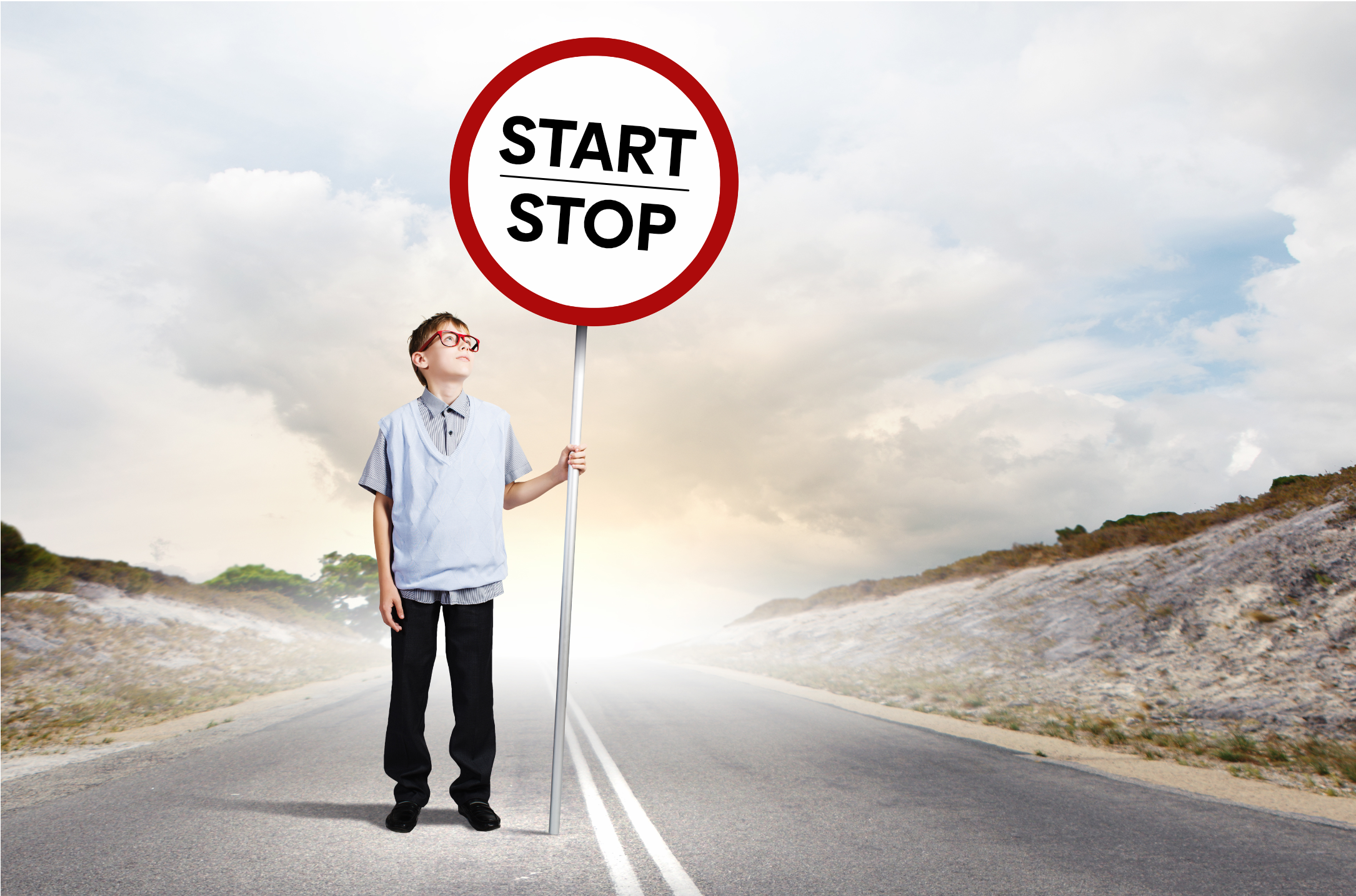 Key points
Myopia progression in fastest in younger children, so starting myopia control as soon as possible will give the best overall results.
There is lots of evidence for starting myopia control treatments from ages 6-8 years, and some evidence for starting from age 4.
Myopia tends to stabilize in the late teenage and early adulthood years, so myopia control treatment should ideally be continued throughout this time.
---
In this article
Myopia control should be started as soon as possible and ideally continued throughout childhood until myopia becomes stable, and stops progressing.
---
Understanding myopia progression and control
Myopia (also called short-sightedness or near-sightedness) typically develops between ages 6 and 12 and tends to worsen or progress every few to several months until the late teenage years.1 Myopia progression is fastest in children 7-10 years,2 and then usually slows down a little each year thereafter.
The aim of myopia control is to slow down myopia progression or worsening, and starting earlier gives the best opportunity to do so.3
When should myopia control start?
As soon as possible. The research evidence indicates that the younger a child becomes myopic, the faster their blurred distance vision and glasses prescription will continue to worsen. Early age of myopia onset means more years for a child's vision to progress, with more likelihood of ending up with high myopia.4
If we are going to have the biggest impact on slowing myopia progression and reducing the final amount of myopia your child ends up with, we should act quickly. An earlier start and more years of myopia control treatment are likely to result in less final amount of myopia.3
Every child with myopia under age 16 is likely to show progression or worsening, so we should not wait to first see if they progress - we should start myopia control treatment as soon as possible. We should be especially proative for children under 12, who are in their fastest phase of myopia progression.3
What is the benefit of starting early?
Children will benefit more from myopia control at younger age because myopia progresses faster in younger eyes.1-5
The following chart helps visualize why this is the case. In this theoretical example the block line indicates typical myopia progression in a non-Asian child5 with the child becoming myopic around age 6 and progressing to reach high myopia (-5.00D) by the late teen years.
Myopia control treatment effects are typically expressed in percentages. A percentage reduction will have a greater total effect when children are younger, because the progression rate is faster. In the example below we have started a myopia control treatment which slows progression by 50% or about half. The pink line shows the effect of starting myopia control treatment at age 7, while the green line shows starting at age 11.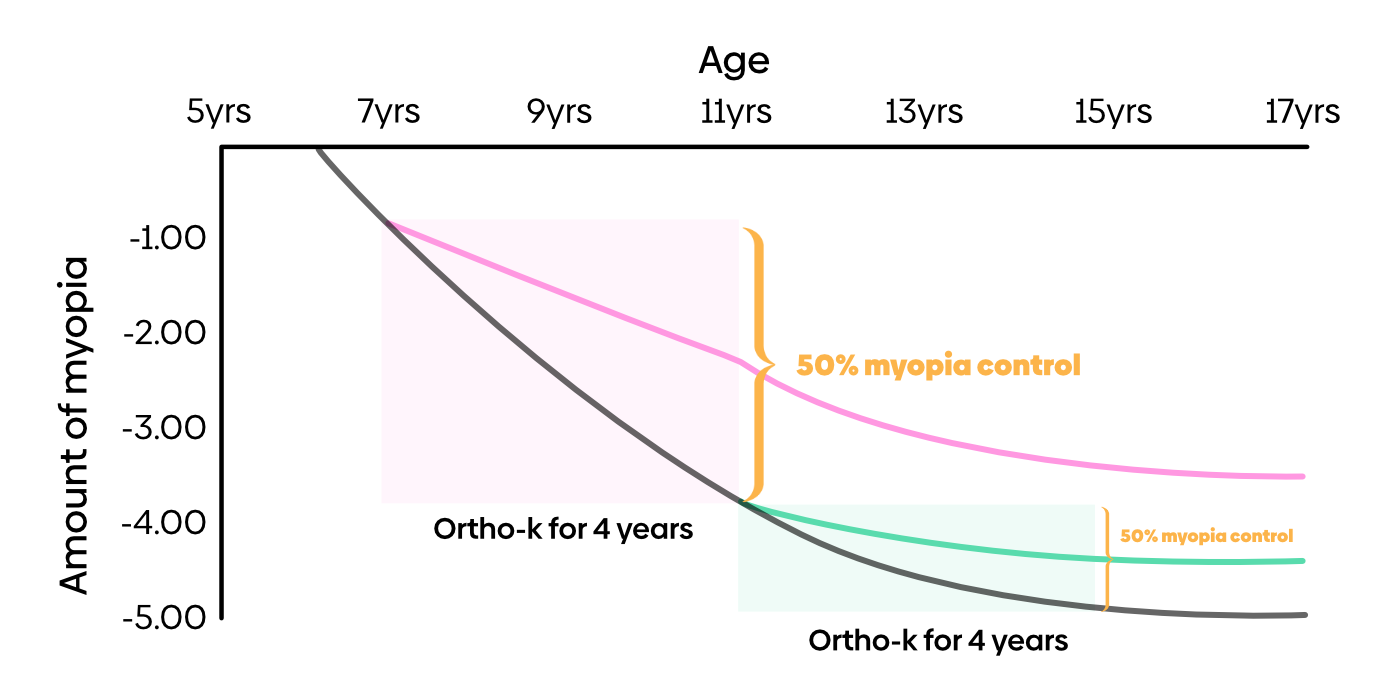 As demonstrated in this theoretical example, a myopia control treatment will likely provide a greater effect when applied earlier. The same 50% myopia control effect leads to higher overall slowing of myopia progression when started at age-7 for four years (pink line) compared to starting at age-11 for four years (green line), indicating the benefit of starting myopia control treatment at earlier age.
If this myopia control treatment which slows progression by 50% is used for 4 years from age 7 (pink line), the final myopia is likely to be around -4.00D. If this same treatment is started at age 11 and used for 4 years, the final myopia is around -4.50D.
Because myopia progression is faster at age 7, there is a greater overall effect in slowing it down by 50% with the myopia control treatment.
Which myopia control treatment is best to start with?
The most suitable treatment for your child will depend on their vision, eye health and other individual factors; as well as their capabilities and your preferences as a family. The evidence for myopia control treatment effects as shown in research studies includes children from the following ages.
From age 4 for atropine eye drops6
From age 6 for ortho-k contact lenses7
From age 7-8 for soft contact lenses8,9
From age 8 for myopia control spectacle lenses10,11
Age should not be the key reason to decide on a particular treatment, though - for example, parents can think that contact lenses are not safe for their kids to wear12 when in fact, children 8-12 years appear to be safer soft contact lens wearers than teenagers and adults!13
When should we stop myopia control?
When your child reaches early adulthood. Research has shown the following information on when myopia stops progressing, or becomes stable, in the late teens and early adulthood years.1,14,15
Half of myopic children reach stable myopia by age 16, but this means half are still progressing so it would not be wise to stop all children at age 16
Around 75% are stable by age 18
Most are stable by the mid-20s, BUT
Around one-third can still show slower myopia progression across the decade of their 20s.
This means that you, your child and your child's optometrist or eye doctor will likely be on the myopia management journey together until your child finishes school, and possibly beyond.
Myopia control treatments have typically been researched in scientific studies for 2-3 years, and there are a few studies demonstrating safety and treatment effect over several years.3 This does not indicate treatments should only be used for 2-3 years - it's just a limitation of the available data.
If a treatment is working well for your teenager by providing them both clear vision and slowing of myopia progression, there is no rush to stop. A treatment may be stopped if there is some concern with suitability, tolerance, side effects or cost over time, but even if this is the case, your teen will still require glasses or contact lenses to correct their vision.
Once myopia is stable, the young adult with myopia still needs regular eye exams to monitor their eye health, as higher levels of myopia bring with them higher risks of eye diseases and even vision impairment in adulthood.
---
References
Back to the knowledge centre