Why babies and toddlers might wear contact lenses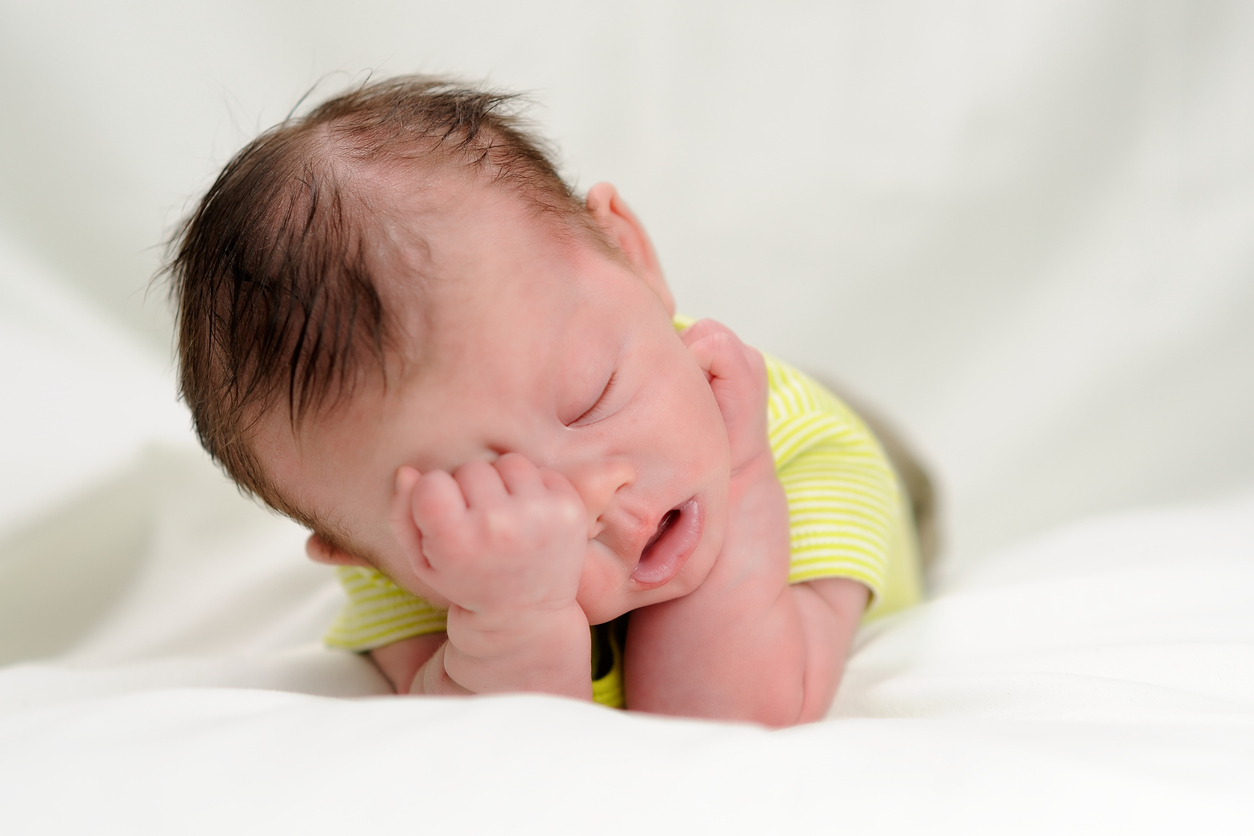 Key Points:
Contact lenses are only prescribed to babies and toddlers when absolutely necessary.
Contact lenses are the preferred option when spectacles are not suitable.
Your baby or toddler may be prescribed contact lenses to provide them with the best practicable vision, allowing their visual system to develop as normally as possible.
In this article
There are special circumstances in which contact lenses are the best vision correction option for babies and toddlers. These are typically in situations where a young child needs to wear glasses full time to support normal development of the eyes and vision, but for a variety of reasons glasses are not suitable. This article will go through some of those situations.
Why would babies and toddlers wear contact lenses?
Babies and toddlers are typically only prescribed contact lenses for very specific reasons, with the main reason being to give them the best possible sight so their visual system can develop normally. Usually, this is because the baby or toddler has a very high prescription, which would be heavy and thick when made into eye glasses.1
Glasses are also harder to keep in place for full time wear in babies and toddlers. The first few years of childhood are a very crucial time for the eyes to develop normally and the brain to learn to see. This means it can be a neccessity for young children with very high prescriptions for glasses to wear the glasses as much as possible.2
Contact lenses can provide a way for babies and toddlers to have effective vision correction for very high prescriptions, which wouldn't work as well when made into glasses.
The two main conditions that can make contact lenses necessary for babies and toddlers are cataract and high spectacle prescription.
Cataract and contact lenses in babies and toddlers
Cataract is where the natural focussing lens in the eye is not clear, which blocks or blurs light getting through to retina at the back of the eye and makes vision blurred. This is a common condition in elderly people, but a rare occurrence in babies which is usually detected at birth or soon after. If it is present at birth, this is called congenital cataract. If cataract develops after birth it is termed juvenile or pediatric cataract.3
When a baby or toddler has cataract in one or both eyes, surgery is usually required to remove the lens in the eye so that the eye can develop normal vision and the brain can learn to see with that eye.3
When the lens is removed, the focussing power of the eye is dramatically changed. This condition, where the focussing lens is missing from the eye, is called aphakia. A very strong prescription in spectacles or contact lenses is required to correct vision properly where there is aphakia.
In most cases, the removed lens can be replaced with an implant, called an intraocular lens (IOL), which corrects for the aphakia. Calculating the exact power of this implant for babies and toddlers can be complex, though, and the surgery is usually only done once. For this reason, contact lenses can offer the better solution as it is easy to adjust their prescription power with new sets of contact lenses.
One study looked at the visual outcomes of children who had been born with congenital cataract in one eye. After having the cataract removed, half of these babies had an IOL implant and the other half were fit with a contact lens.
These two groups (contact lens or intraocular implant) were compared at age 4.5 years their visual outcomes were similar, but there had been more complications and additional surgeries required for the children with IOL implants.
The authors suggested that babies under 7 months who undergo cataract removal surgery would be better to wear a contact lens for aphakia afterwards, than to undergo an early IOL implant, which instead can be done later.4
Read more about the Infant Aphakia Treatment Study described above in this National Institutes of Health article.
High prescriptions and contact lenses in babies and toddlers
Some babies or toddlers may be born with healthy eyes but very high prescriptions, such as high myopia (short-sightedness), hyperopia (long-sightedness) or astigmatism. A large difference between eyes, called anisometropia, can also be a reason that contact lenses are fit to improve visual development.1,5
In these cases, spectacles may be very thick and heavy or distorted to look through for the baby or toddler, making contact lenses a superior option. The advantage of contact lenses are that they can be worn full time, whereas spectacles can be easily taken off.
A child with a very high prescription typically needs to wear their vision correction full time, for their eyes and brain to learn how to see as clearly as possible. Your eye doctor or optometrist will help decide which is the best option for your baby or toddler.
What type of contact lenses are best for babies and toddlers?
Soft disposable and rigid breathable contact lenses can be used, which depends on the prescription needed, and also your baby or toddler's eye shape.
A survey of contact lenses prescribed to infants (0 to 5 years), children (6 to 12 years) and teenagers (13 to 17 years) found that the youngest children were typically prescribed more rigid lenses or longer replacement time soft contact lenses than the other age groups.
Children 5 years and under were also wearing their contact lenses more often and full-time compared to school-aged kids, in line with the medical necessity of fitting and wearing contact lenses in this age group.6
A baby or toddler's eyes tend to be smaller and a different shape to older children or adult's eyes, so contact lenses typically need to be custom made to fit. This is easier to do with rigid breathable contact lenses and specially made soft contact lenses than with the normally available soft disposable lenses which are fit to older children, teenagers and adults.
Important considerations for babies and toddlers with myopia
Myopia in babies and toddlers is unusual and more commonly tends to onset in the early school years. The fastest progression (or worsening) of myopia tends to occur from ages 7-10 years.7 This means that a lot of research on understanding myopia progression and treatments is focussed on this age range.
Myopia in children younger than this can be associated with other general health syndromes,8 especially if it is high myopia. Often this requires the involvement of eye care practitioners such as an optometrist and/or ophthalmologist, and also pediatrician, to manage eye health as well as general health.
Babies and toddlers with myopia will typically have their blurred vision corrected with spectacles, and their visual development and eye health monitored. Myopia control treatments may be typically commenced from age 4-6, as this is where the evidence starts to exist for the safety, tolerance and effectiveness of the treatments.
Getting started and thinking about the future
Any parent who has tried to put eye drops on their baby or toddler's eyes would think putting contact lenses on would be impossible, but it can be done. When babies and toddlers wear contact lenses, it is up to parents to take care of all of the lens application, removal and day-to-day eye health monitoring.
It's important to note, though, that children from age 8 have been shown to be very capable of handling soft contact lenses themselves,9 and some rigid breathable contact lens studies have shown children can commence and manage contact lens wear from age 6.10 Parents won't have to put on and take off their child's contact lenses forever, but will need to in first years of life when the contact lenses are prescribed for medically necessary reasons.
Contact lenses for babies and toddlers are only prescribed when necessary to give your young child their greatest chance at clear vision and normal eye development. There are often support groups and further information available for parents of babies and toddlers wearing contact lenses, so ask your eye specialist about resources to help you.
References
Back to the knowledge centre